Wonderlic is now offering Candidate Feedback Reports to people who take our WonScore assessment. In this video, Becca Callahan, our CPO, explains why.
Video Transcript:
Hi, I'm Becca Callahan, Chief Product Officer at Wonderlic. Historically, the assessment industry has shied away from offering feedback or results to candidates applying for a job. But this year, we've decided to change that. Going forward, we'll be offering assessment feedback to candidates who assess on WonScore—and I'm excited to explain why.
Candidates deserve something in return for taking a rigorous assessment.
Candidates often invest a lot of time in an organization before they know if they'll even receive a rejection email in return. On the flip side, most organizations simply don't have the time to respond in a meaningful way to every candidate.
Assessment feedback is a way for employers to provide candidates tangible value in exchange for their time. With insights into their cognitive ability, motivation, and personality, candidates can increase their own self-awareness and consider ways to develop in light of their own traits and tendencies.  
Offering assessment feedback gives employers a leg up in what's still a candidate's job market.
Despite economic shifts due to COVID-19, the job market hasn't shifted power into the hands of employers the way you'd expect during a recession. Unfilled job openings are at a record high for this point in an economic downturn. Remote hiring and "work from anywhere forever" policies have created a landscape in which employers are now competing with companies all over the country for top talent. And candidate expectations about their experience with a potential employer are higher than ever.
In this new reality, offering helpful, personalized insights early in the application process gives employers a distinct competitive advantage.
The promise of feedback will incentivize more applicants to take WonScore, which helps employers make smarter (and faster) hiring decisions.
Assessing candidates early on has been proven to produce the best outcomes for organizations and the fairest outcomes for candidates. Offering feedback motivates candidates to take that step and delivers a more transparent picture of the insights being considered in the hiring process.
Anyway, we're really excited to see how this new offering improves the candidate experience for our customers and their job applicants. If you'd like to learn more about what's in our feedback reports, click here. Thanks for watching!
Want more ideas for improving your candidate experience?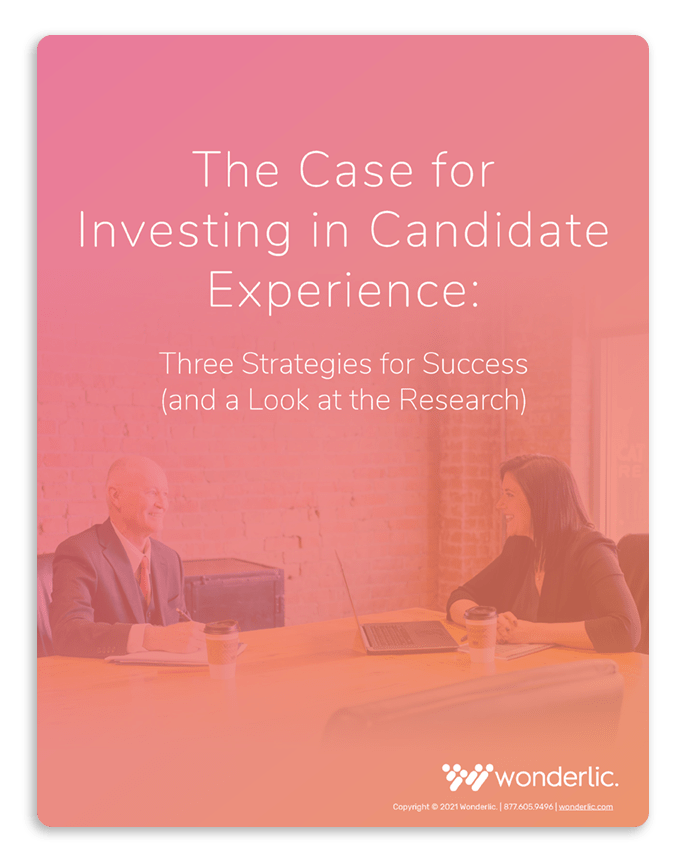 Download your copy of
The Case For Investing In Candidate Experience: Three Strategies for Success (and A Look at the Research) below.