It is alarming that disengaged students represent approximately 18% of postsecondary students.
Simply put, disengaged students are less motivated to improve their educational outcomes, and they place less emphasis on their education. It is perhaps no surprise, then, that disengaged students have the poorest educational outcomes, which are costly to the student, the institution, and society.
For example, recent research has found that 38% of disengaged student did not complete their education adequately. More specifically, 15% did not finish their education at all, and 23% failed to graduate on time. Furthermore, nearly 40% of disengaged students were unemployed, and 14% of those who sought employment related to their field of study took more than a year to find a job and 37% were still looking. With limited employment gains, disengaged students are those most likely to experience regret about choosing their field of study.
Our collaboration with the Imagine America Foundation uncovered similar trends. First, disengaged students were less likely to be employed full-time. Take a look at Graph A.
As you can see, 53% of graduates were employed full time, whereas only 35% of dropouts were employed full time.
Second, disengaged students were less likely to be employed in their field of study.
Graph B shows that only 11% of dropouts were employed in their actual field of study compared to 56% of graduates.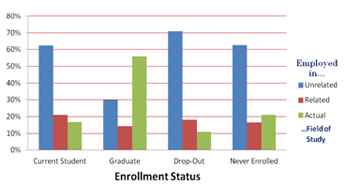 In addition, our research found that dropouts earned smaller annual salaries: For example, graduates were twice as likely to earn $25,000 or more per year as compared to dropouts. Due to problems with degree attainment and gainful employment, it is perhaps not surprising that our research found that disengaged students were more likely to fall behind on paying back their student loans.
Simply stated, disengaged students are frustrated—they don't believe that their education was worth the cost, and it is a continual struggle to secure employment that is aligned with their passions. Luckily, programs can have a substantial impact on the engagement of their students. Measuring student engagement, finding out where there are gaps, creating both short- and long-term plans for success, and then tracking progress over time is the best way to ensure everyone reaches their goals.