Digital badges promote what you can do for potential employers. Why not give yourself an edge?
By now, most of us have heard about the many ways that digital badges can help educators validate their students' skills and competencies to prospective employers. Digital badges are great motivators for students because they help them promote their knowledge, skills and abilities. They can also help improve a student's digital identity.
However, the marketing and recruitment value that digital badges bring to admissions and enrollment efforts is rarely acknowledged. This is unfortunate, because it's crucial that we utilize every resource at our disposal to highlight the benefits of our educational and training programs. Read on to find out how digital badges can help your admissions and enrollment outcomes.
The prospective student user experience:
Imagine that you are an entry-level worker who has a steady job that pays the bills. However, since this job offers little in the way of advancement, you don't consider it to be a long-term career.
One evening, when you are unwinding at home and checking your friends' status updates on social media, you see the following post from a former high school classmate: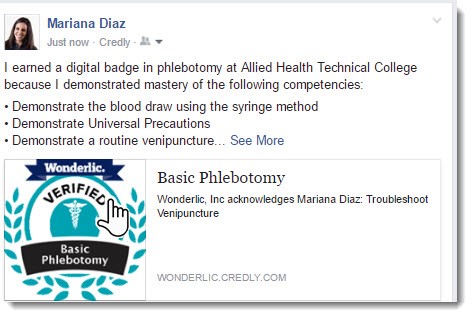 You click on the "Basic Phlebotomy" badge. A page opens with descriptions of various competencies that Mariana mastered for this skill at Allied Health Technical College: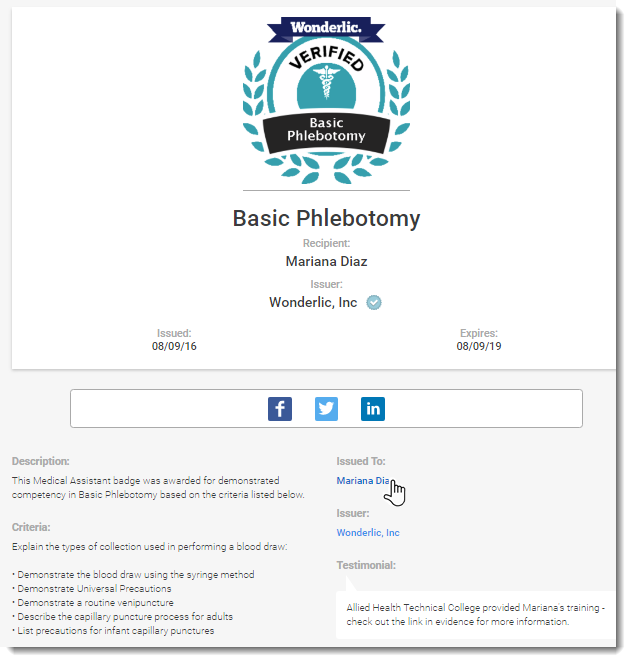 And then, you recall, "I've heard of Allied Health Technical College – I wonder what Mariana studied there?"
You click Mariana's name, and a new window opens on your computer screen displaying Mariana's digital badge portfolio. She has earned several badges: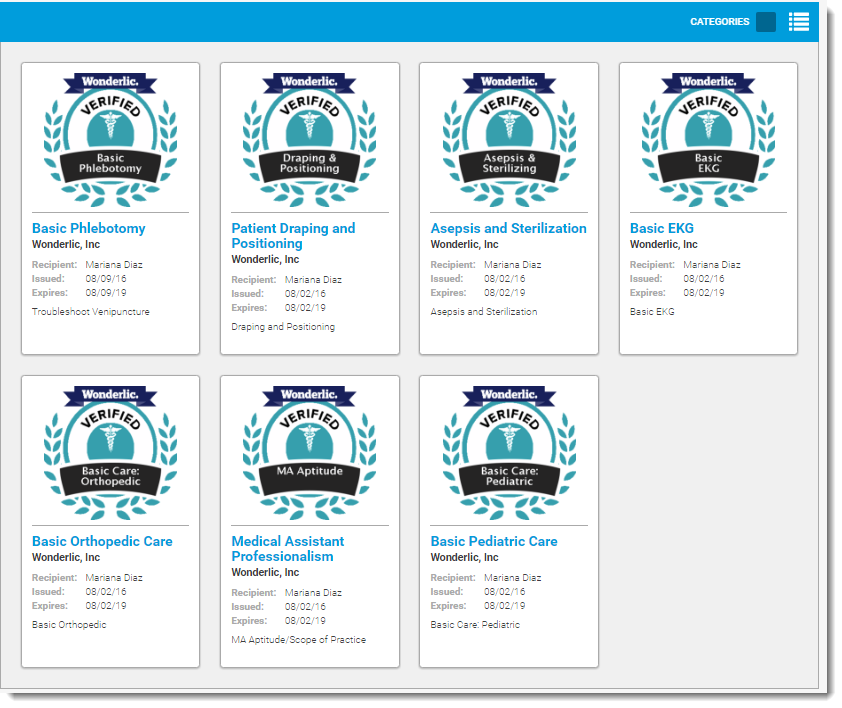 At this point, you are not only pretty impressed with your old pal Mariana, you are also getting very curious about this Allied Health Technical College. In fact, you may even be thinking that you would like to get in touch with the college about earning some of these badges for yourself. The digital badge contains a hyperlink that brings you to the Allied Health Technical College's webpage. You begin exploring some of the career programs they offer.
The benefit to the school…
Digital badges can raise awareness and generate interest about your school and your programs. In the above scenario, a friend of one your graduates visited your school's website via a digital badge. Depending on your site's data-capturing capabilities, you could identify this individual as a prospective student. An enrollment advisor could follow up and invite them to visit the campus. What better way to meet prospective students than through the positive experience of one of their friends?