Here at Wonderlic, we know that a positive candidate experience is an important part of the recruiting and hiring process for every organization, and we strive to continuously provide the best possible experience to every individual who interacts with our assessment tools.
That's why, as of February 2021, for the first time ever, we'll begin offering our customers the ability to share WonScore Candidate Feedback Reports with job applicants who complete the WonScore assessment. These reports give candidates broad insights about themselves based on their responses and are consistent with the best practices for a great candidate experience.
In this article, I'll explain what these reports are—and aren't—and provide an overview of the kinds of insights included in them. Let's dig in!
What exactly is the Candidate Feedback Report?
The Candidate Feedback Report is a summary of a candidate's WonScore results that has been curated specifically for candidate use. The report features general performance data (a broad interpretation of their traits) and actionable feedback regarding how to use those interpretations in their daily life. The feedback language and presentation have been carefully designed to be useful for a candidate's personal awareness and growth without indicating any selection or hiring preference. The focus of these reports is to provide candidates with actionable, relevant feedback and to increase transparency regarding the information collected based upon their responses.
What's its purpose?
The goal of the report is to provide valuable insights to the candidate as a kind of reward for spending their time taking the WonScore assessment. It also serves as a great foundation for feedback conversations with candidates: consistently using constructive and simple language in the reports helps paint a clear picture of their performance and reduces the risk of inconsistent feedback or candidate misunderstandings.
To be clear, the Candidate Feedback Report is not intended to be used for selection purposes; since it is a candidate-focused feature, it should not be considered when making a hiring decision.
Why do we think these reports are something candidates will find worthwhile?
In 2020, we conducted a pilot program, offering several of our customers' candidates the option to see a feedback report. Over 1,000 candidates received feedback, and their response was overwhelmingly positive: the inclusion of feedback increased positive sentiments by over 7%. Also, in speaking to our pilot testers, they found these feedback reports significantly improved the conversational feedback experiences for both their hiring teams and candidates.
What's included in the reports?
Each report features three sections—an Overview page, a Know and Grow page, and an In Action page.
Overview Page
The Overview page presents the most important high-level information we learned about the candidate from their assessment responses. A candidate's top Natural Tendency is on the left, their most powerful Personal Driver is in the middle, and their Problem-Solving style is on the right. In the labels under these categories are supporting descriptors of each. Below that are some of the workplace behaviors and preferences usually associated with each category.
An example: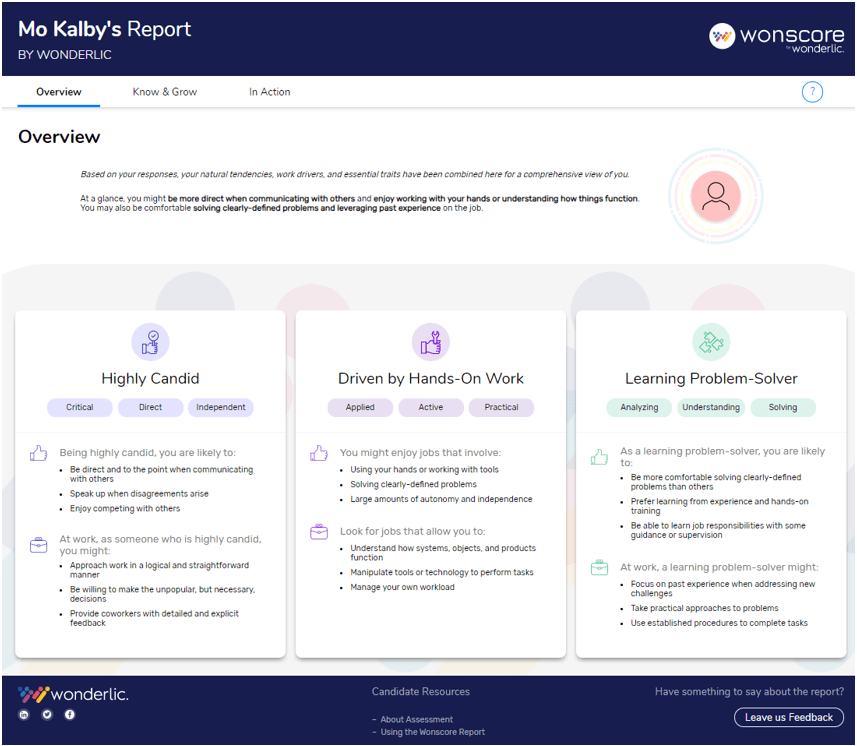 Know and Grow Page
The Know & Grow page is the meatiest section of the report. In it we provide information about a candidate's Natural Tendencies and Personal Drivers—both important characteristics that they should understand about themselves (and that employers will consider when thinking about how they fit in a specific role, team, and organization).
In ranked order, the page lays out how some of the candidate's characteristics and preferences translate to behaviors, what that means in a work setting, and how the candidate can use this information to their advantage.
The bar charts at the top of each section give a very rough look at how a candidate's tendencies and preferences are ranked and measure up against each other, and the cards detailing the information about each of these elements are meant to give them valuable, actionable information that they can use in their work life and beyond.
An example: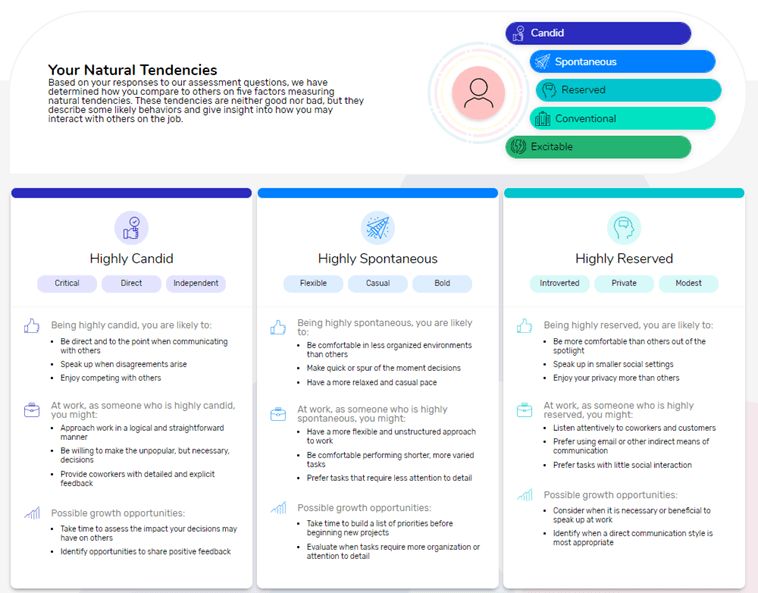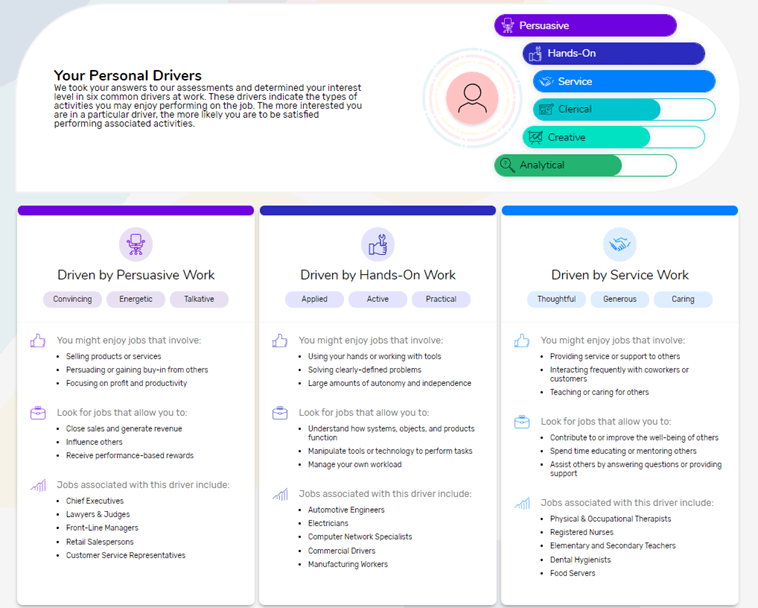 In Action Page
The In Action page is where a candidate can get some information about the "KSAs" (Knowledge, Skills, and Abilities) that many employers, career advisers, and recruiters identify as being important for employability. Specifically, this page provides insight into the kinds of work settings and responsibilities that may best align with the candidate, the problem-solving style that best aligns with how the candidate learns and approaches new information, and a candidate's preferences when it comes to working alone or in a team setting and being an individual contributor versus being a manager of other people.
Each of these pieces of information sheds light on the type of career path, work environment, and job responsibilities that will make a candidate most comfortable.
An example: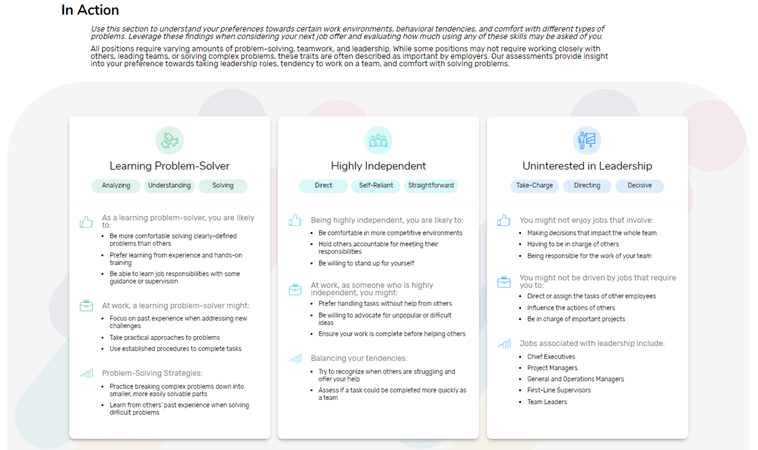 How do candidates access their feedback report?
Candidates are given access to their feedback report directly from the WonScore assessment completion page or via an emailed link and access code. If they want to see it, they can; if they're not interested, they can pass. Simple as that!
---
This Candidate Feedback report is meant to be one important part of a great end-to-end candidate experience. To find out other smart ways to improve your candidates' experience, check out our article, 6 Simple Ways to Create a Better Candidate Experience. And to learn more how WonScore works, sign up for a quick demo here.
Want more ideas for improving your candidate experience?